From Social Media Examiner
In eMarketer's recent report, "Social Network Demographics and Usage", it was estimated that 127 million people (57.5% of Internet users) will visit a social networking site at least once a month in 2010.
They attributed the steady rise since 2009 as due in part to the ever-increasing popularity of Facebook. Not only is the number of users growing quickly, but also the audience demographics continue to widen from just teens and young adults. In 2010, they estimated that 59.2% of adult Internet users will visit social networks monthly, up from 52.4% in 2009.
"The connections and interactions that social networking makes possible didn't even exist a few short years ago," said Debra Aho Williamson, eMarketer senior analyst and author of the new report. "Status updating, commenting and sharing openly are all activities that will not go away."
The estimates outlined in the report show a steady rise by 2014. Two-thirds of all Internet users (164.9 million people) will be using social networks on a regular basis. Two age groups stand out the most: In 2014, 56.8% of 55- to 64-year-old Internet users will visit social networks regularly (34.3% in 2009). In addition, 37.9% of seniors 65 and up will be social network users (14.1% in 2009).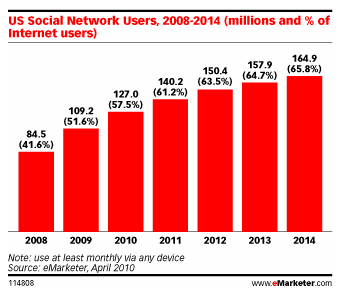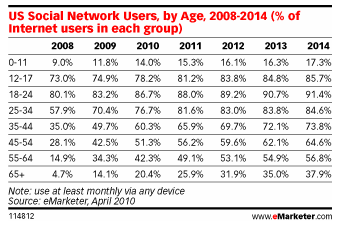 These two graphs show the steady rise in social networking use by 2014.